case report: A rare case of herpes zoster with trigeminal and vestibulocochlear nerves involvement
Keywords:
herpes zoster, varicella-zoster virus, multiple dermatomes, trigeminal and vestibulocochlear nerves.
Abstract
Background :The distinguishing characteristic of Herpes Zoster (shingles) is its limitation to a single dermatome. The involvement of
more than one dermatome is unusual, while the involvement of more than one spinal nerve is a rare find. The case presented is a 70 year old woman with herpes zoster of two cranial nerves: the trigeminal and the vestibulocochlear; the three divisions of the trigeminal nerve were also involved.
Methods: A 70-year-old woman who complained of a week old history of blisters on the face and mouth and three (3) weeks history of toothache on the left side is presented. The patient also complained of ringing, pain in the left ear, and rotational dizziness. She admitted that she was treated for malaria fever a week before the onset of these symptoms. On examination, there were ulcers involving the skin of the left side of the face up to the left auricle and the scalp. The left maxillary and mandibular mucous membrane and left side of the tongue also had ulcers. There was no facial muscle weakness.
Laboratory investigation included Full Blood Count, fasting blood sugar (FBS), and retroviral screening (RVS). The FBS was within normal limits, while RVS was non-reactive. Treatment was with oral prednisone -dosage tapered-; antibiotics, and diazepam.
Results: Healed erosions were observed on the 3rd week of treatment.
Conclusion: Multiple dermatome distribution of vesicular rash due to more than one spinal nerve involvement is an uncommon finding
in herpes zoster. Early diagnosis and prompt treatment can result in complete resolution.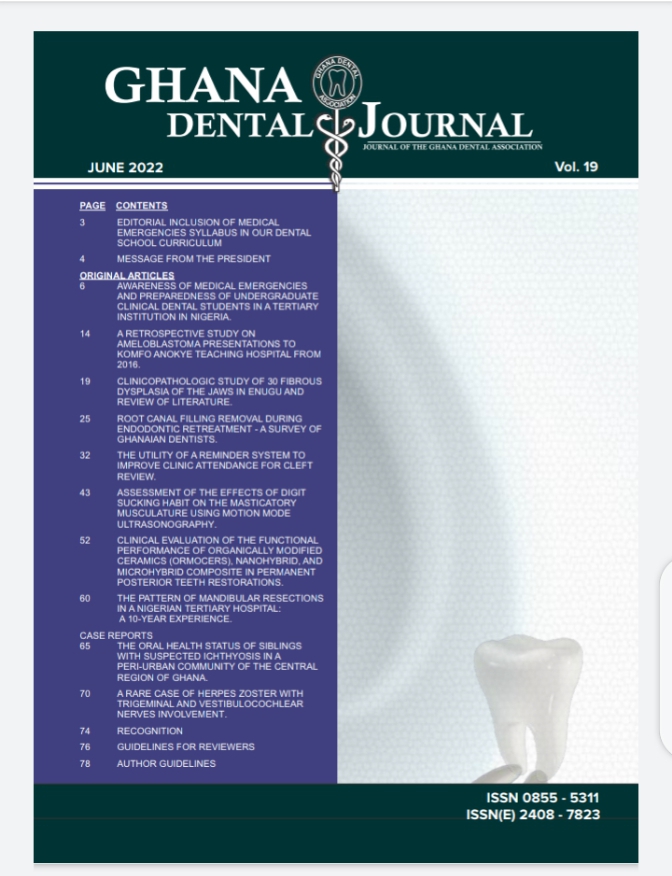 Downloads
How to Cite
I. P, O. . (2022). case report: A rare case of herpes zoster with trigeminal and vestibulocochlear nerves involvement. Ghana Dental JOURNAL, 19, 70–73. Retrieved from https://gdajournal.org/publications/index.php/gda/article/view/39