Case report: The oral health status of siblings with suspected ichthyosis in a peri-urban community of the Central Region of Ghana.
Keywords:
Ichthyosis, Quality of life, Oral health, Dermatology, Scaly
Abstract
Ichthyosis is a dermatological condition characterized by the presence of dry, scaly skin that sometimes resembles fish scales. The
condition may be present at birth, in childhood, or later. Diagnosis is based on clinical features and sometimes on histological features.
Management involves a multidisciplinary approach. No cure is currently available. It has an adverse effect on health-related quality of life with a positive correlation with the severity of the disease.
There is a need for awareness and the establishment of treatment protocols to manage individuals with this condition. This is a case report of two adult siblings with the condition but at different phases.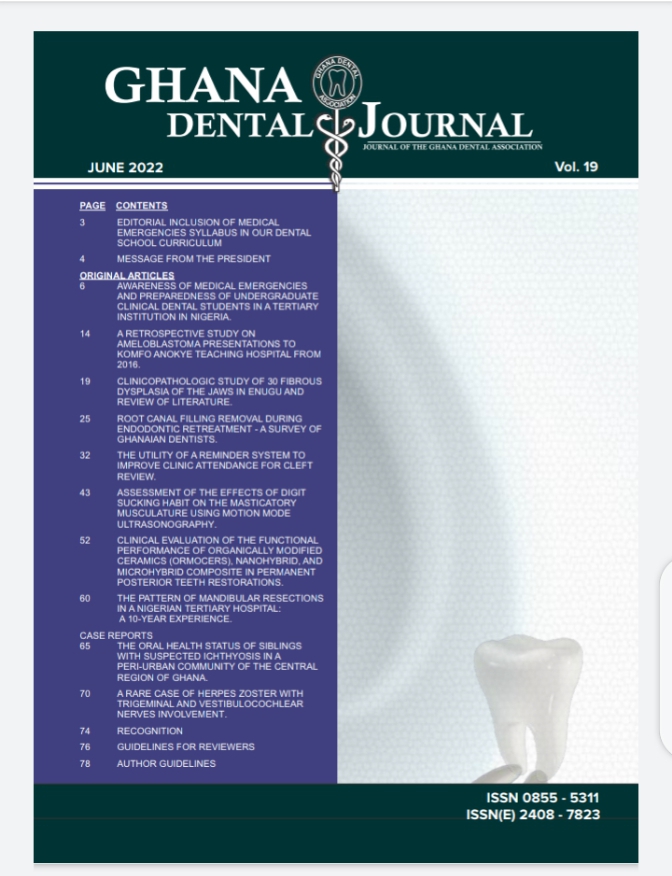 Downloads
How to Cite
M, D., K. G, A. ., T, M. ., P, P. ., R. D, P. ., G. P, A. ., D, B., & M, N.-N. . (2022). Case report: The oral health status of siblings with suspected ichthyosis in a peri-urban community of the Central Region of Ghana. Ghana Dental JOURNAL, 19, 65–69. Retrieved from https://gdajournal.org/publications/index.php/gda/article/view/37