Use of telephone reminder system to improve review attendance of patients with cleft lip and palate
Keywords:
Orofacial cleft, Cleft repair surgery, Phone call reminder system, Review visit, Non-attendance
Abstract
Background: This study aimed to evaluate the effectiveness of telephone reminders in reducing non-attendance at early review visits following cleft repair surgery.
Materials and Methods: Comparative interventional study that included 58 adult parents/caregivers who presented their children for cleft repair surgery. Subjects were randomized into two groups; (phone call group or control group). The outcome was whether the patient attended the review clinic or not. A semi-structured questionnaire was used to collect the necessary information.
Results: There was a progressive decline in attendance between the 1st and 3rd review visits, similar for the two groups. At the 4th review visit, the trend of decline was sustained for the control group but reversed for the phone call group, although not statistically significant p=0.292. The overall attendance rate for the control and phone reminder groups were 48.5% and 51.5%, respectively (p=0.469). All the respondents who received phone calls considered phone call reminders helpful.
Conclusion: There was some improvement in clinic attendance with phone reminders at early review appointments after cleft repair surgery. The effect of a phone reminder system for patients attending a cleft review in this study area may be more important for the late review visit periods.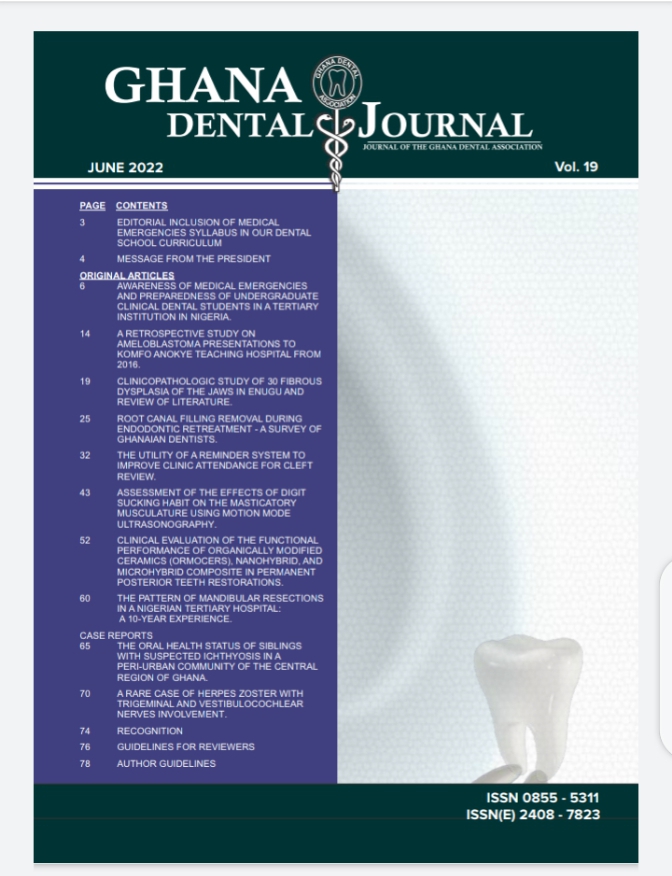 Downloads
How to Cite
S. A, O. ., O. O, G. ., F. I, D. ., & O. K, O. . (2022). Use of telephone reminder system to improve review attendance of patients with cleft lip and palate. Ghana Dental JOURNAL, 19, 32–38. Retrieved from https://gdajournal.org/publications/index.php/gda/article/view/30
Section
Original Research Article