A retrospective study on ameloblastoma presentations to Komfo Anokye Teaching Hospital
Keywords:
Ameloblastoma, Tumor, Odontogenic, Maxillofacial, Surgery, Multilocular
Abstract
Introduction: Ameloblastoma is the second most common benign odontogenic tumor, and only odontoma outnumbers it in reported frequency of occurrence.
Aim: This study reviewed all ameloblastoma cases reported to the Oral and Maxillofacial Surgery Department of Komfo Anokye Teaching Hospital from 2016 to 2018.
Methodology : This was a retrospective descriptive study involving reviewing medical records of all Ameloblastoma cases diagnosed
within the study period at the Oral and Maxillofacial Surgery Department of KATH. A data collection sheet was used for data collection that covered patients' demographics, location of the lesion, radiographic presentation, histological report, and treatment.
Results : Thirty-four (34) diagnosed cases of ameloblastoma were recorded within the study period, giving an average of eleven cases
(11.3) annually. The mean age of patients was 32.0 years with a male: female ratio of 1:1. All the cases reviewed were located within the
mandible, with none in the maxilla. Twenty-four (70.6%) of them were found in the body of the mandible. Multilocular radiolucency is the joint radiographic presentation (24, 71%). Plexiform was the common histological variant (12, 35.3%). Thirty-two (32, 91.2%) patients were treated by resection with wide margins. There was no incidence of recurrence recorded.
Conclusions: The results of this study indicate that Ameloblastoma cases in Ghana have similar clinicopathological presentations as
commonly reported in the literature.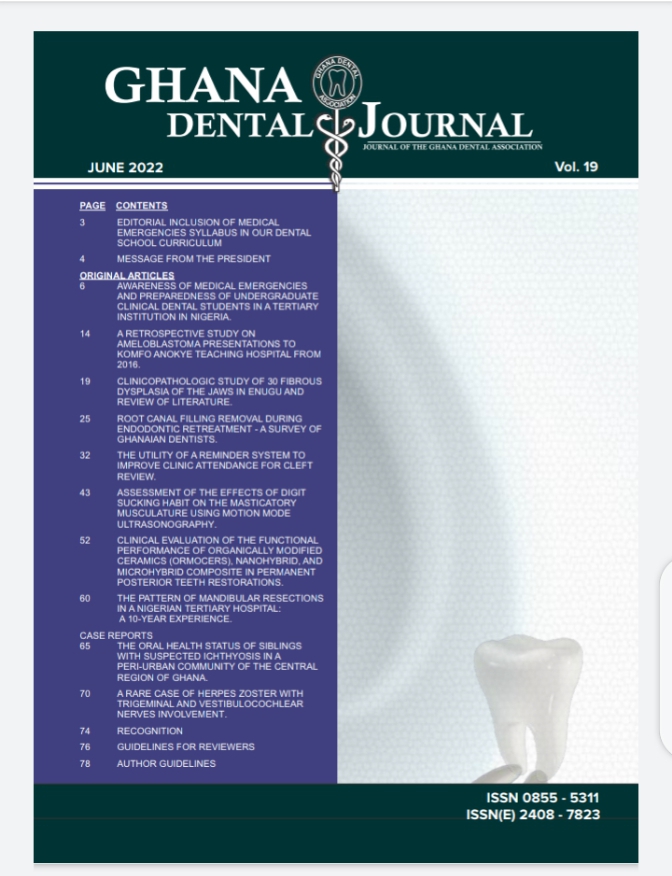 Downloads
How to Cite
D. A, K. ., E, A. ., J, A.-S. ., & F, A.-A. . (2022). A retrospective study on ameloblastoma presentations to Komfo Anokye Teaching Hospital. Ghana Dental JOURNAL, 19, 14–17. Retrieved from https://gdajournal.org/publications/index.php/gda/article/view/28
Section
Original Research Article