Clinicopathologic study of 30 fibrous dysplasia of the jaws in Enugu, Nigeria
Keywords:
craniofacial bones, Fibrous dysplasia, fibro-osseous lesion
Abstract
BACKGROUND: Fibrous dysplasia (FD) is a genetic-based benign fibro-osseous lesion known to affect the jaws and craniofacial bones. Reports of this entity in Eastern Nigeria are scarce.
OBJECTIVE: To determine the prevalence and clinicopathologic features of fibrous dysplasia.
MATERIALS AND METHODS: A total of 643 clinicopathological records (radiographs, clinical records, and histopathological records)
collected between January 2012 and December 2019 were available. The demographic and clinicopathologic records of bone and
maxillofacial pathologies were examined and correlated with histological findings to determine the prevalence of FD.
RESULTS: A total of 643 orofacial lesions of bone lesions were reviewed. In these, 86 benign fibro-osseous lesions (BFOLs) were
identified, of which 30 (34.9%) were FDs. The majority of the BFOLs was ossifying fibromas (OFs). The patients with FD were in the 2nd to 3rd decades of life with a mean age of 19.4 ± 7.9 years.
The male to female ratio was 1: 2.8, while the mandible to maxilla ratio was 1: 4.3. There was a statistically significant prevalence of FD on the right-sided jaw, P = 0.000.
CONCLUSION: This study observed a low prevalence of FD of the jaws, mostly observed in young patients, affecting the right side.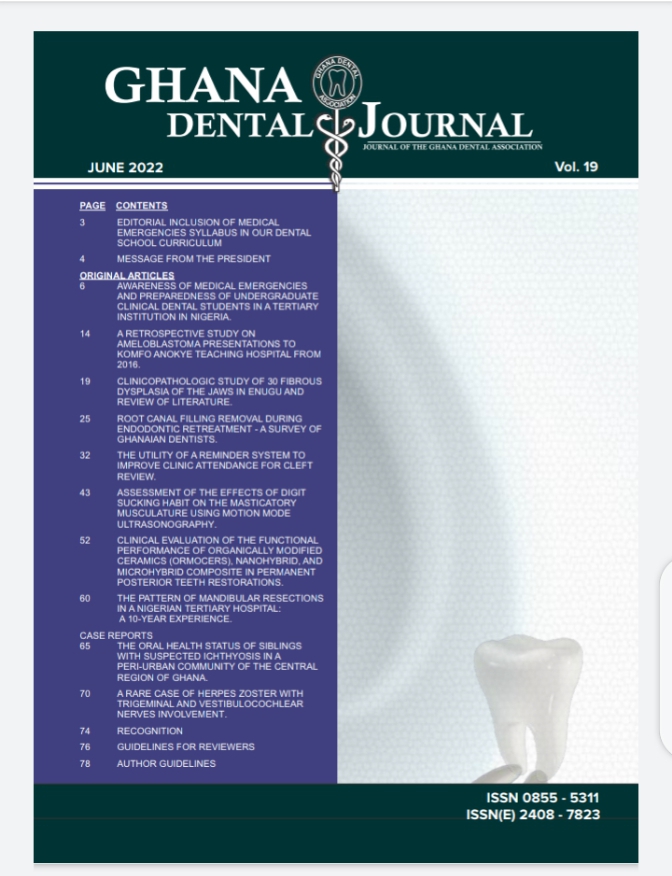 Downloads
How to Cite
C. U, O. ., M. C., N. ., & A. O, A. . (2022). Clinicopathologic study of 30 fibrous dysplasia of the jaws in Enugu, Nigeria. Ghana Dental JOURNAL, 19, 19–23. Retrieved from https://gdajournal.org/publications/index.php/gda/article/view/27
Section
Original Research Article